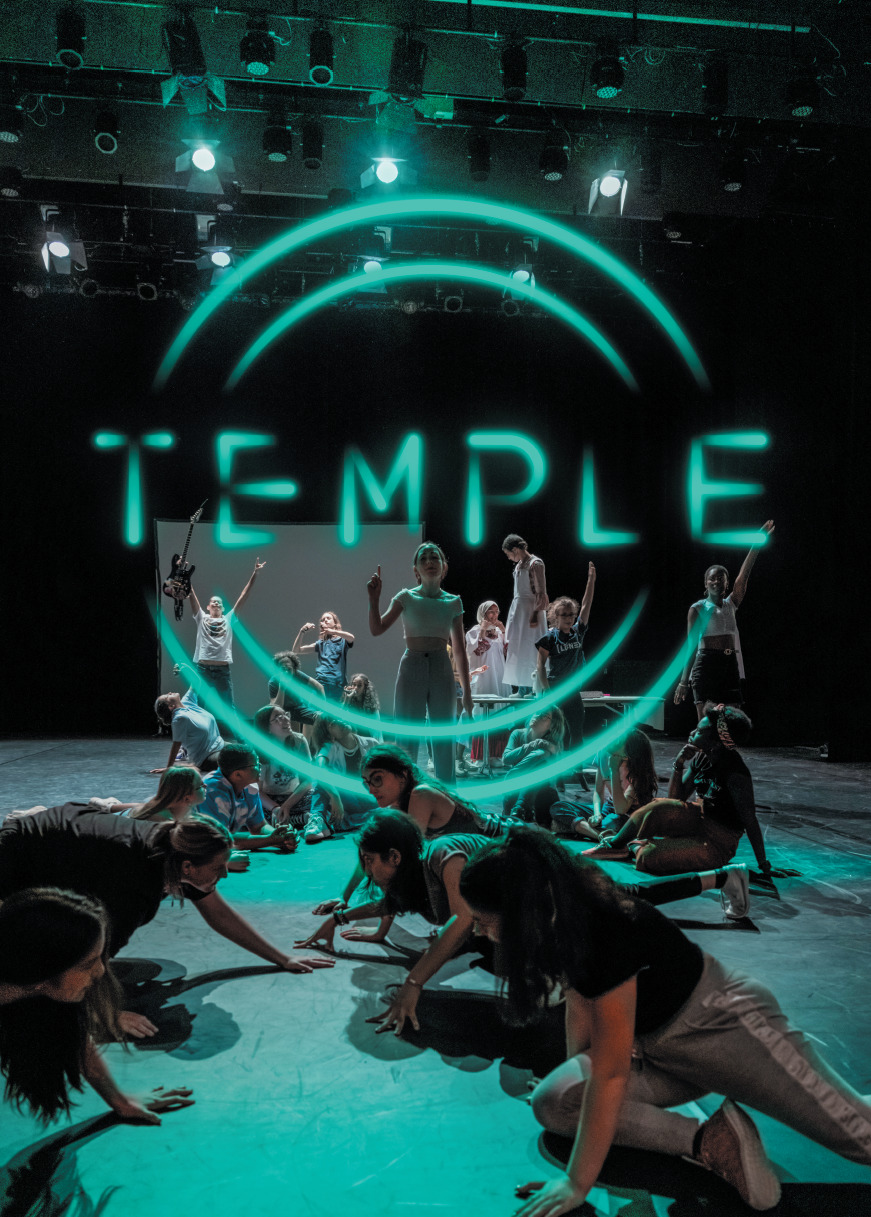 © Bohumil KOSTOHRYZ
TEMPLE – THE ART'N BE PART PROJECT
2021
This is the story of young teenagers on the run, who find themselves left to their own devices in an abandoned "temple": no presence, no adult to show them how to cope… They don't know each other and yet they will have to learn to live together for an indefinite time. Coming from different backgrounds, will they be ready to trust each other and live together in order to survive? What will happen if the young people start to create their own system of rules and laws? Will everyone find their place in this community? Will they manage to recreate a better world?
This unique participatory project, launched in 2020, allowed young people aged 12 to 20 to discover the performing arts, to experiment with artistic practice and to become artists of their own creation. Accompanied in their work by 4 experienced multidisciplinary artists – Natercia Rebelo, Benoît Callens, Sacha Hanlet and Elric Vanpouille – and directed by Nathalie Moyen, they worked throughout last season to present this innovative show combining theatre, dance and music on the CAPE stage.
This project is based on an initial proposal and with the financial support of Fondation Sommer.
© Bohumil Kostohryz
BIERGERBÜHN
2019
The Biergerbühn was one of the first projects supported by the Sommer Foundation between 2017 and 2019. Through this participatory project, the collective Independent Little Lies created a space where children and adolescents could discover and exercise their creativity by staging a play that reflected their worldview. During weekly workshops at Kulturfabrik Esch, conducted by theatre and dance teachers, actors, writers, and set designers, the young participants learned about various practices and techniques of the theatre arts, and became authors themselves.
This project was selected by the Sommer Foundation because it saw great value in creating an alternative meeting-space for youngsters in the city of Esch, as such a space would have the potential to enhance the positive dynamic of the city's cultural life. Thanks to the participatory process and the importance given to dialogue, the participants felt that they were encouraged to be creative, and they were able to grow in terms of their knowledge, artistic skills, and their sense of engagement.