EDUCATIONAL projects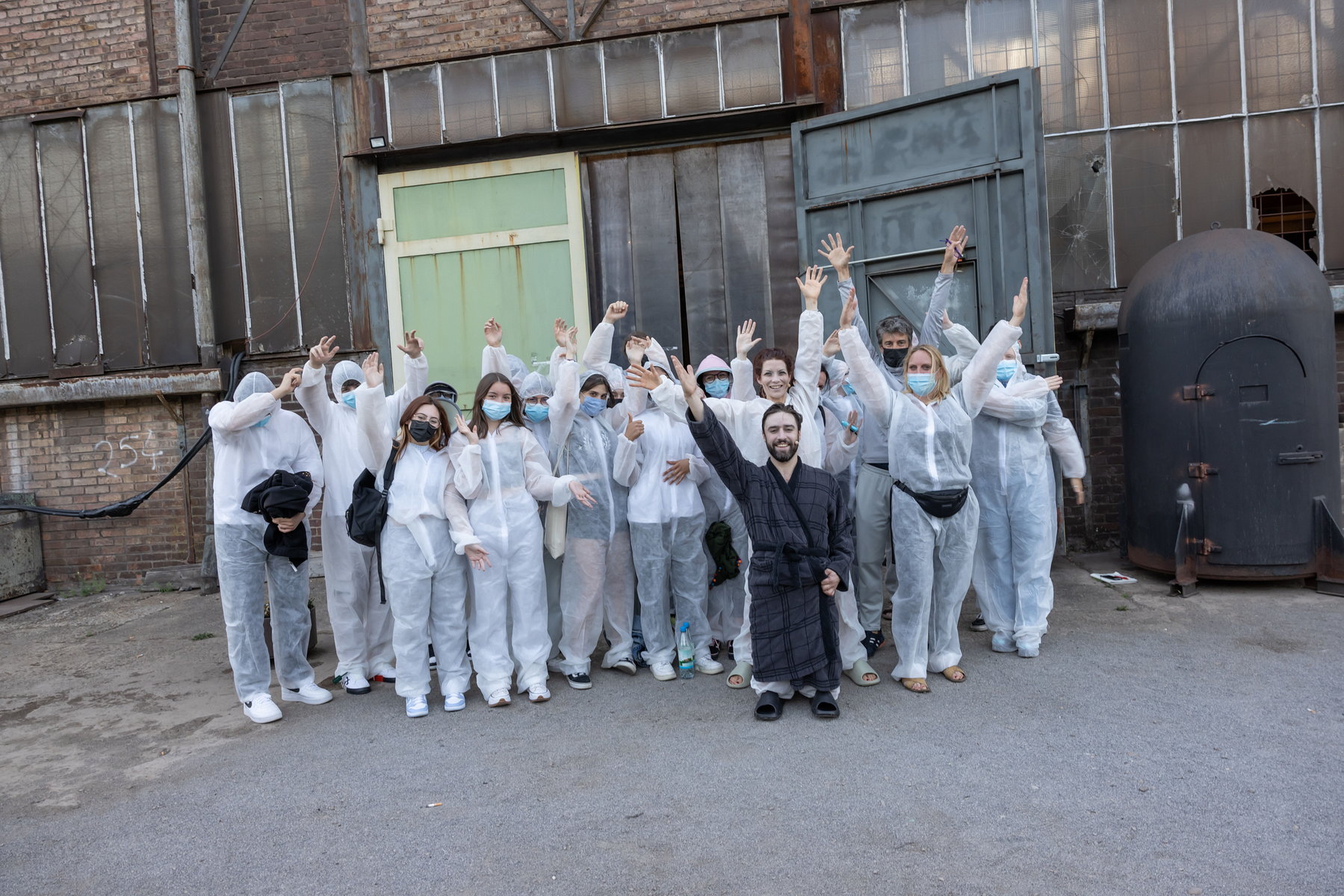 © boshua
DIE MASCHINE STEHT STILL
2022
Die Maschine steht still is a transdisciplinary and in situ science fiction theatre performance, which is part of Esch 2022, European Capital of Culture. Directed by Marion Rothhaar and produced by the Théâtre National du Luxembourg, it uses the public space of Esch Belval station and transforms it into a stage.
In this project, the students of the Lycée de Garçons in Esch/Alzette are seen as experts of their own realities and are involved in the artistic decision-making processes. The young people become intensively familiar with the material and are taken seriously with their own ideas, impulses and questions. They play an active role in the production process. Through a mutual exchange with the artistic team, they become co-creators of a professional artistic project and develop their own material. Parts of the play and the soundtrack are thus created in direct exchange and collaboration with the students, while the final play uses their creations: the thoughts, bodies, voices and sounds developed are used and reused according to the Esch22 motto: REMIX.
Participation generates a positive experience and allows participants to step outside themselves and develop their particular strengths. Working together promotes a sense of belonging, courage and self-confidence. Fear of public presentation is overcome. Students demonstrate personal responsibility and have lasting experiences of success.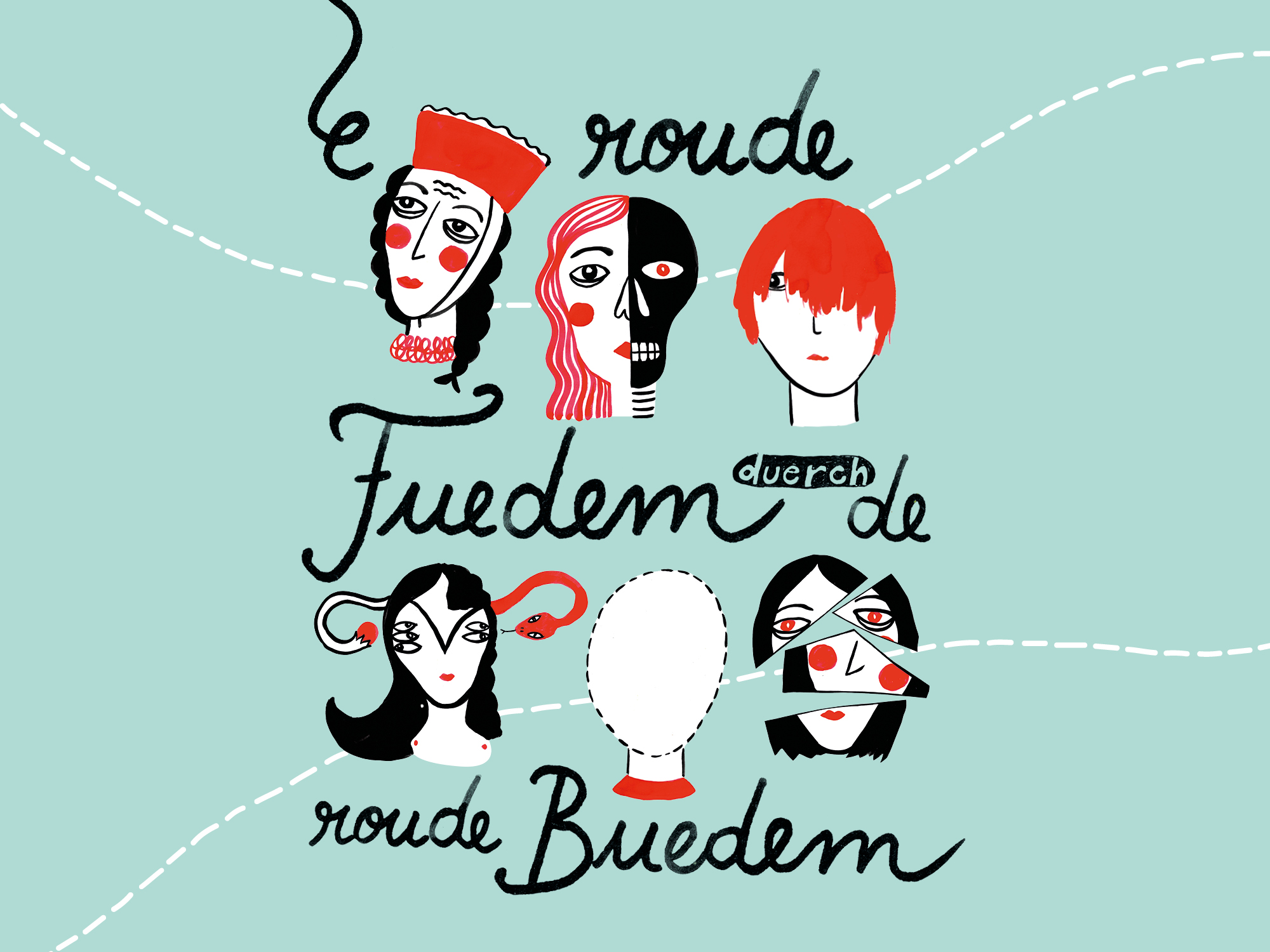 E ROUDE FUEDEM DUERCH DE ROUTDE BUEDEM
2022
Inspired by Mil Goerens repertoire Eiser Soen, the MASKéNADA artists' collective has developed six different performances (2 sound walks, 3 theatrical performances and 1 performance reading) that bring back to life images of women conveyed in old Luxembourgish stories and legends. Within the framework of Esch 2022, European Capital of Culture, six legend routes in six communes of southern Luxembourg form this "artistic walk" and a discovery theatre, set in the natural setting and its mysteries of the Minett region. For more impact, a pedagogical project, adapted to three particular routes (for the sound walk in Esch/Ellergronn and the two theatre walks in Sanem/Zolwerknapp and Differdange/Lasauvage), accompanies the great project of E Roude Fuedem duerch de roude Buedem. The collaboration with theatre educators and partnerships with schools in the municipalities concerned enables the students to familiarise themselves with the theme of the legends, to meet the artists involved in the productions and to give them keys to reading as well as practical exercises in preparation and extension of the show they are going to see.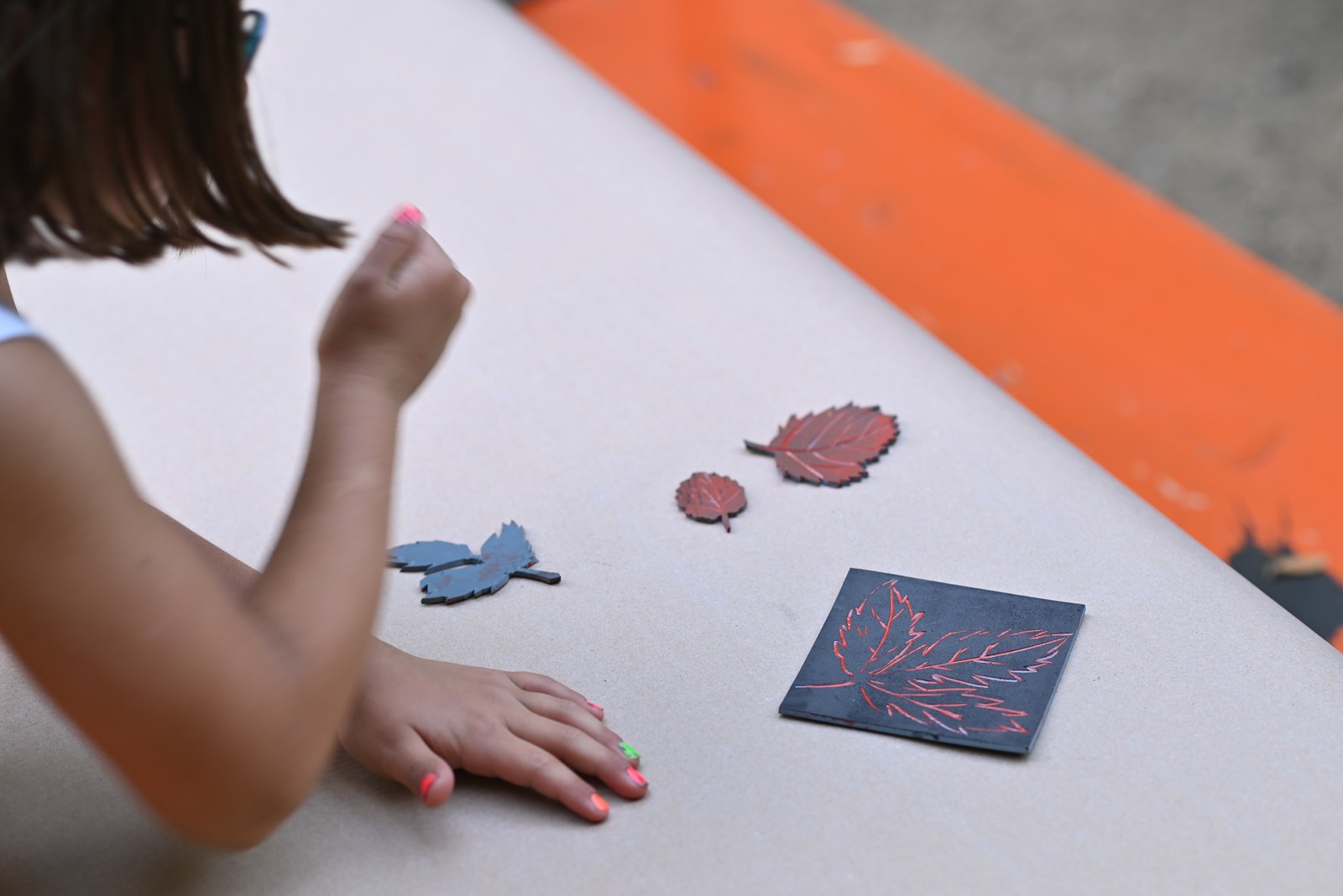 © Rémi Walle
NOMADIC ISLAND
2022
Nomadic Island brought together people of different ages, professions, social and cultural backgrounds. For three weeks, artists from Luxembourg and abroad, as well as teenagers from three youth centres in the south of Luxembourg and France, shared time and space in a beautiful location, on the threshold of wilderness and industrial landscape, and were able to demonstrate their creativity in a spirit of collaboration. For Friday Island vzw, the project leader, this multidisciplinary art residency was a great experience for all participants. "We learned a lot from each other, we had fun together, we talked about a better future. Such an integrative project allowed for the coexistence of different levels of human concern: sustainable development, social inclusion, youth empowerment, artistic creation, self-management, independent living together, collaborative work and an intergenerational approach.
© Maria Emilia Rodrigues
LE BUTAÏ DE SOPHIA
2022
The school public in Luxembourg is linguistically very diverse and the aim of this project was to awaken in the students (10 classes in cycles 3 and 4, in 3 schools) a taste for oral expression in French, whatever their linguistic level, through theatrical play and storytelling. This project provided an insight into the cultural richness of Portugal, beyond clichés, and introduced the participants to the world of a little-known Portuguese author, Sophia de Mello Breyner Andersen. With its eclectic mix of Portuguese literary history, the oriental tradition of Kamishibai (paper theatre) and Boutaï (narrative genre) and a taste for the French language, Rita Bento dos Reis' project highlighted the great richness of cultural knowledge and familiarised the naturally curious children with the pleasure of books, reading and play.
Along the way, the project evolved and the workshops were held in French and Portuguese and were also organised as part of Portuguese classes in Luxembourg public schools, in collaboration with the Camões Institute in Luxembourg.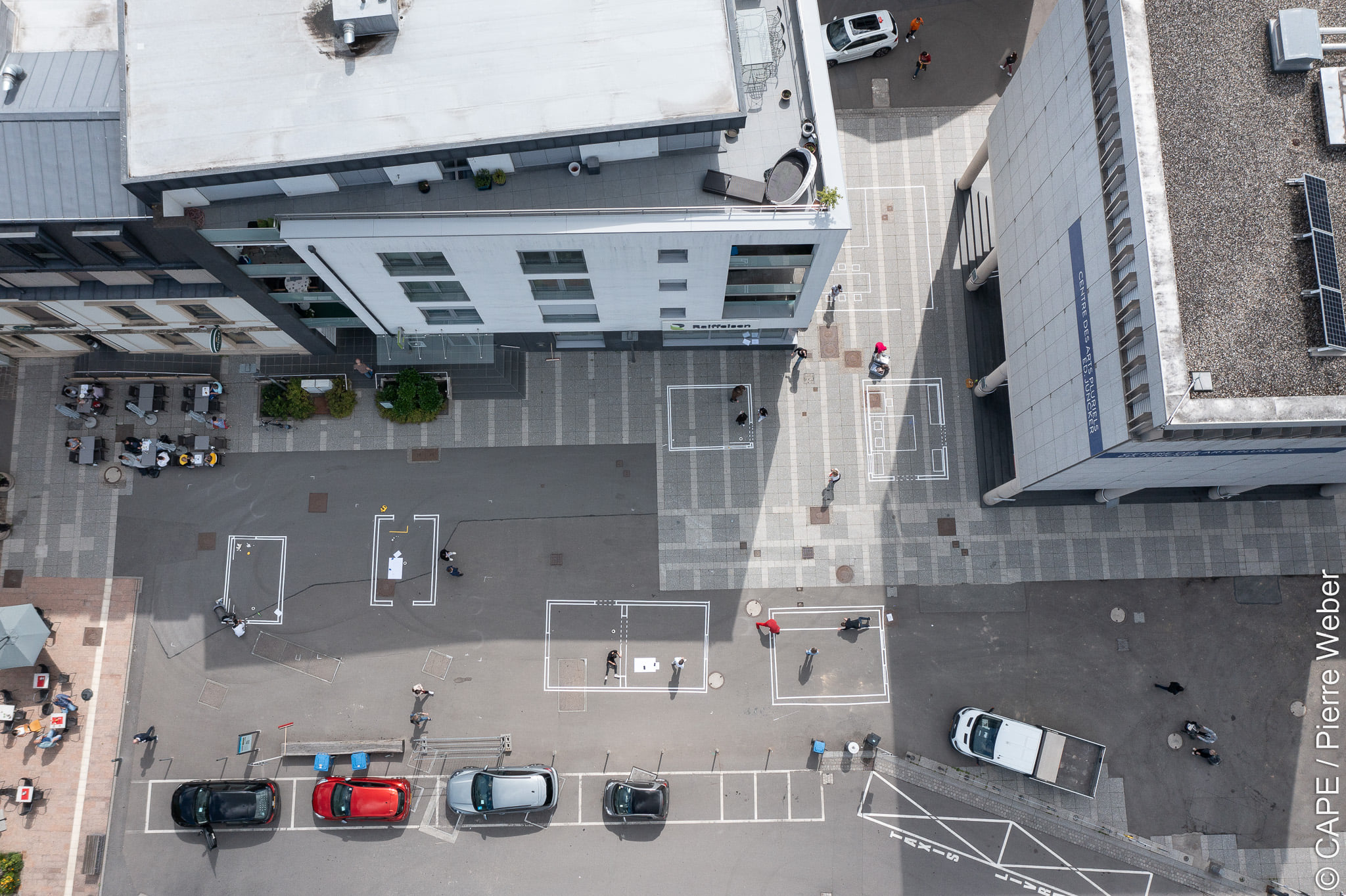 © CAPE/Pierre Weber Photographie
OP WEI ENGEM GRONDRËSS WËLLS DU WUNNEN?
2021
In the framework of her architecture mediation project WAA – Wat ass Architektur? the independent artist-architect Julie Marthe Hoffmann organised, in collaboration with different educational and cultural partners in Luxembourg, workshops with the title WAA – OP WEI ENGEM GRONDRËSS WËLLS DU WUNNEN? in which schoolchildren were asked to imagine the plans in which they would like to live. The aim of this project was to consciously and thoroughly address the topics of housing, cohabitation and architecture and to create a public debate on the most suitable housing for our current and future lifestyles. Thus, these life-size reflections on "new forms of housing" make it possible to imagine new solutions, at the heart of the housing problem in Luxembourg.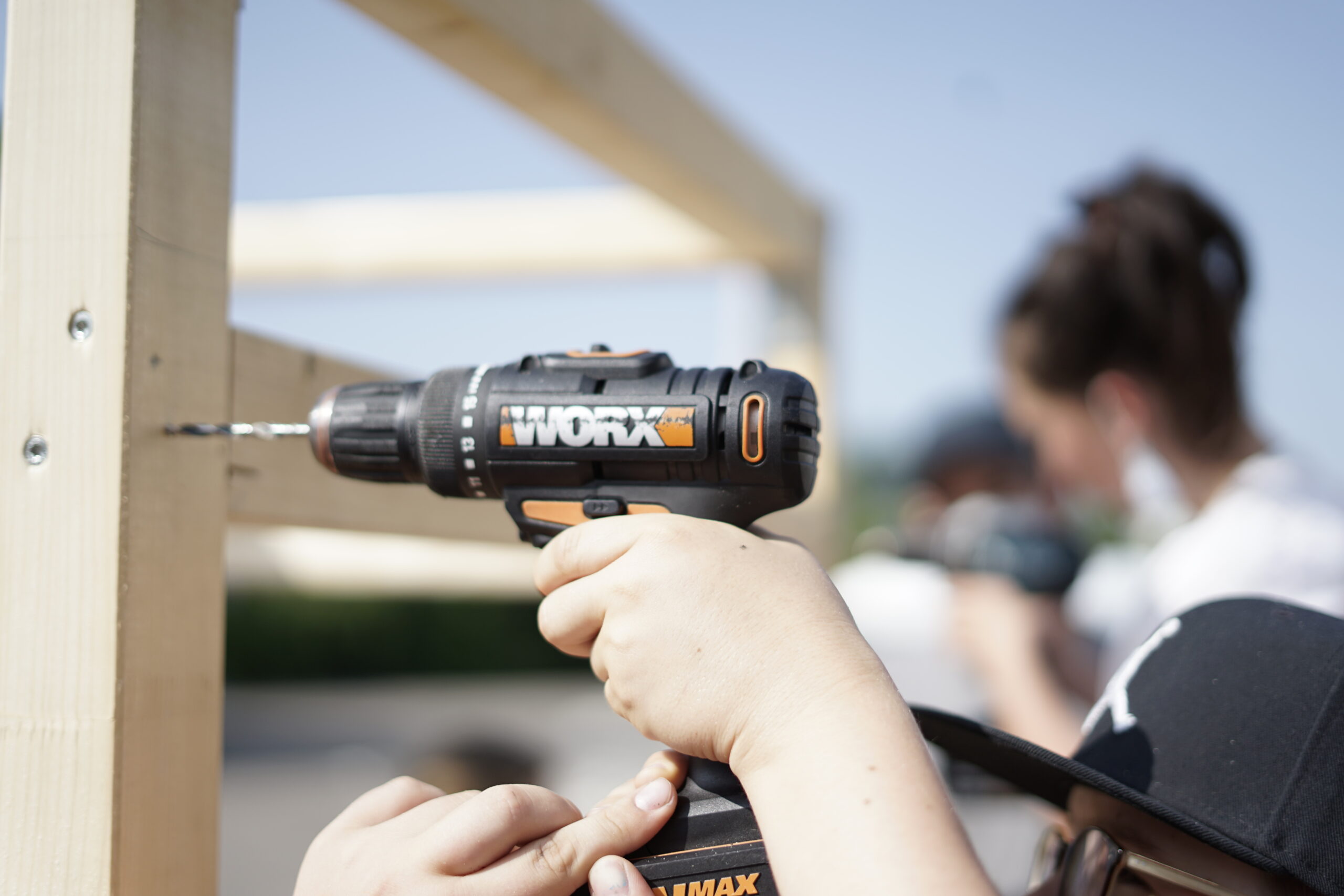 © Fapic Group
MY TINY TINY HOUSE
2021
As part of its architectural education mission, the LUCA – Fondation de l'Architecture et de l'Ingénierie regularly organises activities for children and young people.
To launch a new series of workshops, entitled "Architektur SUMMER", the LUCA has been supported by Fondation Sommer. Through these workshops, the participants are led towards different architectural or urbanistic reflections, but also towards more social aspects and they work on themes that change every year. For the first edition, in summer 2021, of this new programme, LUCA has chosen the theme of "Tiny Houses", a movement that originated in America and quickly conquered the whole world and found many followers. A Tiny House contains all the essentials for daily life: kitchen, bed, bathroom… However, everything is housed in a very small space ranging from 12 to 25 m2.
During this workshop, children from 6 years old were asked to reflect on several points: how to live in a small space, to discover the advantages and disadvantages, to become familiar with the idea of alternative, ecological and minimalist housing. The workshop went beyond theory. To allow them to be creative, but also to create a greater knowledge and understanding of their built environment, real wooden "Tiny Houses" were imagined and built with the children on a 1:2 scale (they were therefore twice as small as in reality). Together, the participants created a small "Tiny Houses village" in order to raise their awareness of community life.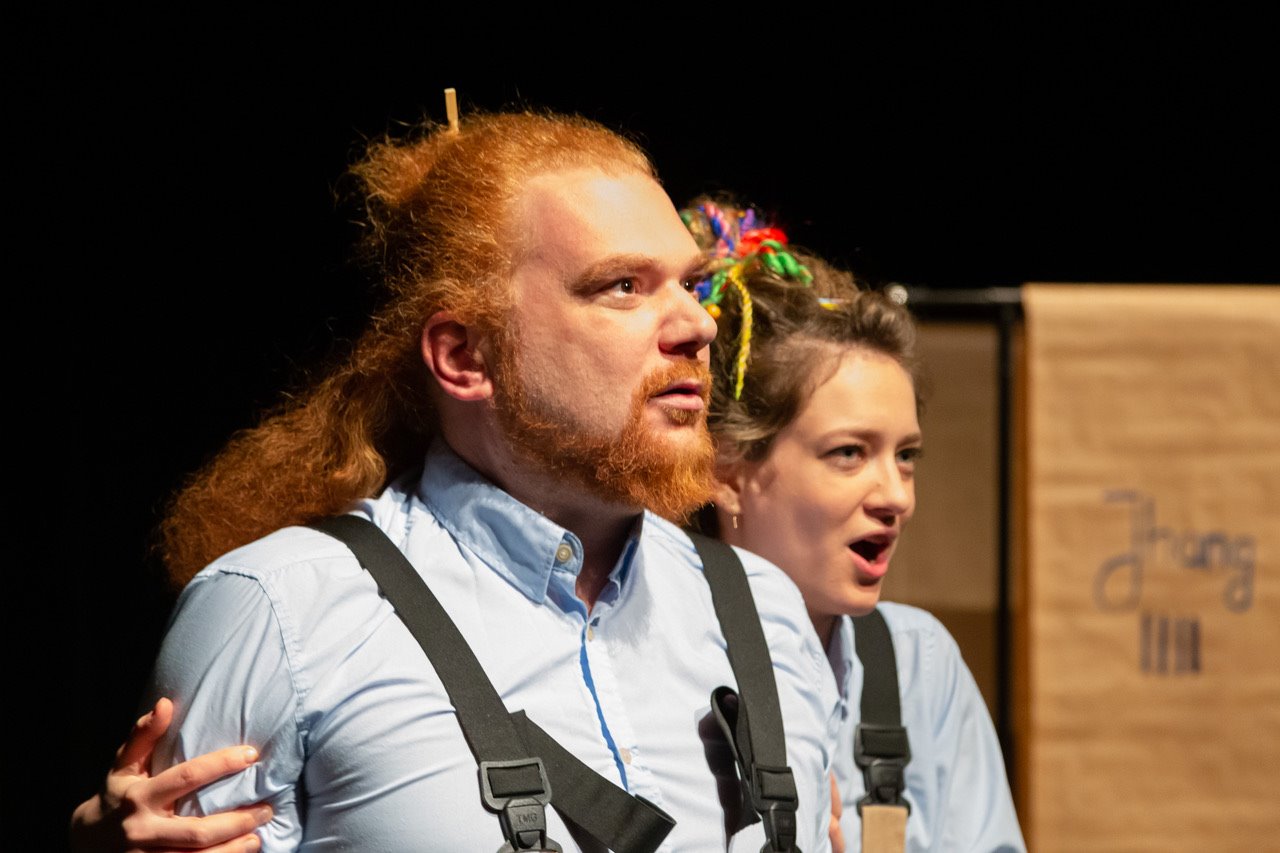 © Yves Maurer
MEGA BEIS! NUR WUT!
2021
Anger is a very familiar and generally negative feeling. Children are conditioned not to express their anger publicly, to contain it. As they grow older, they are more likely to hide it. However, anger is not an irrational emotion and should be taken seriously and expressed in a positive way.
This is what Kopla Bunz wanted to achieve through its piece "Mega béis! Nur Wut!" for children from 6 years old. Through theatre and dance, the children have been led to analyse anger, to name it, understand it, accept it and deal with it constructively. A website with videos made by the artists and games tailored to a young audience accompanies this project.
© Bohumil Kostohryz
VOYAGEURS IMMOBILES
2021
A journey can be manifold. It can be geographical, but also literary and philosophical. One can travel for the taste of exploration, discovery, contemplation, a desire for adventure, a spiritual call or a poetic vocation. One can also travel without moving, letting the spirit wander and thus escaping while the body remains motionless.
Through their project "Voyageurs immobiles", the Compagnie Artezia questions the components of travel through contemporary dance. Curiosity, openness to the world, acceptance of difference but also imagination and experimentation. In order to nourish its creation and to share its knowledge, the company has carried out some of its creative work in the school environment.
Despite the sanitary context, this was made possible by a strict hygienic concept and a successful collaboration between all stakeholders. For the second time, the company entered the Lycée Vauban for a one-week creative residency in January 2021. This enabled the students to familiarise themselves with the stages of the choreographic creation process. Afterwards, practical workshops were organised so that the students could experiment with contemporary dance and its language.
A short film "Trip, a choreographic creation" recounting the artists' residency in the school was made by the students of the cinema-audiovisual option and also presented at the "Cinécourts en Herbe" festival.
© Mierscher Kulturhaus
D'MINA AN DÉI VERGIESSE MELODIE
2020
Within the framework of the children's production of the Mierscher Kulturhaus D'Mina an déi vergiesse Melodie, the Sommer Foundation supports educational music workshops for hearing-impaired children at the Centre de Logopédie. D'Mina an déi vergiesse Melodie is a music and theatre show based on the work of Beethoven, accessible to hearing and hearing-impaired children, thanks to the participation of professional Luxembourgish artists and a sign language actress.
Based on this creation, the workshops to prepare for the show allow children to listen to, perceive and feel music in their own way, to get to know various musical instruments and to express themselves on music by dancing and singing.  The workshop is conducted by the Luxembourg theatre pedagogue Catherine Hengesch, who plays on stage and who co-developed the concept of the show.
In general, this production raises awareness of deafness and underlines the importance of accessibility to artistic productions; accessibility that must be guaranteed to the whole society, including people with special needs. The hearing public (re)discovers sign language as a powerful and surprising tool of expression.
© Sandy Flinto
TRANSMISSIONS
2020
Between travel story and mythology, the play Ecological Anxiety Disorder plunges young spectators over the age of 14 into a dreamlike and surreal world, an expedition into a world apart, in the very heart of the seventh continent. A plastic continent made up of circular currents in the middle of the ocean. In this terrible relationship with the environment, the boundary between the illusory and the real becomes blurred: the ancestral fears of sea monsters, both frightening and fascinating, re-emerge between the symptoms of this pathology, eco-anxiety.
Far from falling into moralizing traps, this immersion in the abyss takes us on a fascinating scenic journey. In Ecological Anxiety Disorder, the performers take over a synthetic ecosystem in the middle of a lost paradise. An odyssey that is both poetic and disturbing, choreographing body and matter. Thanks to the "Transmissions" project based on the research material of the piece, the artists initiate young teenagers to creation and respect for the environment through a series of scenic workshops: writing, dance and music. Immersing the young people in the heart of the theatrical world and the ecological problems, they open up a dialogue by preparing the young people for the world of the play and by collecting their questions after the creation.
© Corps In Situ
K – D'ÉCOLE
2020
K -D'ÉCOLE is an artistic and cultural education project carried out in parallel with the creation of PROJECT K, and carried out in dialogue with three partners: the Lycée Vauban, the TROIS C-L (Centre de Création Chorégraphique Luxembourgeois) and the company Corps In Situ/ARTEZIA. The aim of this project is to promote creation and transmission by introducing an artistic and professional creation residency in a school, the Lycée Vauban.