D'Fondation Sommer ass eng privat Stëftung no Lëtzebuerger Recht. Si ass 2016 gegrënnt ginn, mat dem Zil den Empowerment vu Kanner a Jugendlecher zu Lëtzebuerg ze stäerken. Si ënnerstëtzt all Joer verschidde kulturell a kënschtleresch Projeten, déi sech u Kanner a Jugendlecher an un hiert Ëmfeld riichten.
Fondation Sommer is a foundation under Luxembourg law. It was created in 2016 with the aim of strengthening the empowerment of children and young people through arts and culture in Luxembourg. In this context, Fondation Sommer annually supports several participatory projects, working with arts and culture as tools for emancipation and involving children/youth and their families and communities.
By means of three calls for theme-oriented projects, the Sommer Foundation aims to support several participatory projects that will use culture and the arts as tools for free self-expression, and that will translate its goal of empowering people into concrete activities involving children and young people, thereby having a positive impact on our society.
The next deadlines for sending the applications are:
1 March 2022
7 June 2022
15 September 2022
29 November 2022
Call1 for projects: EDUCATIONAL Projects
Call for projects for artists, cultural structures and active structures for citizenship, integration and social action, for the development of educational activities as part of an artistic or cultural project.
Find out more about the call
Call2 for projects: Joint projects – CULTURE
Call for projects for:
cultural and educational structures

cultural structures and active structures for citizenship, integration and social action
for the execution of a joint project.
Find out more about the call
Call3 for projects: Joint INTERCULTURAL projects
Call for projects for cultural initiatives promoting intercultural exchange in Luxembourg (projects submitted in teams).
Find out more about the call
Through the projects that it supports, the Sommer Foundation aims to stimulate the minds of children and youngsters and make them more inquisitive so that they can participate in our society through the medium of culture and the arts. It encourages the creation of new forms of cooperation between partners from different communities and with different viewpoints, so that the people and cultures in Luxembourg may understand each other better.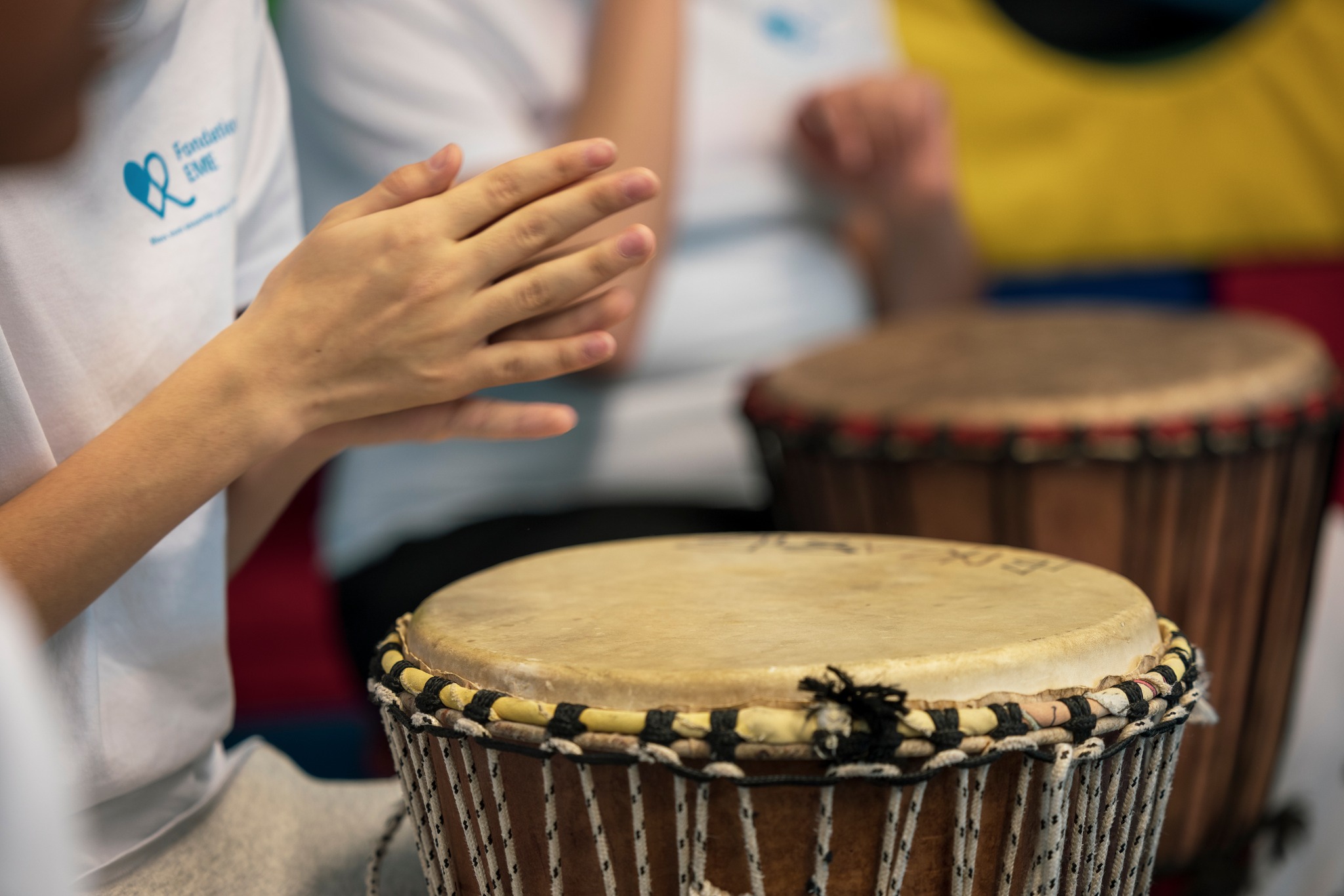 © alsalphotography
TAMA
2022
Once a week, a percussionist leads djembe and singing workshops. The aim is to enjoy music and learn to play together. Through the music, the percussionist creates a moment of togetherness and togetherness and highlights the children. Creativity and self-esteem are strengthened.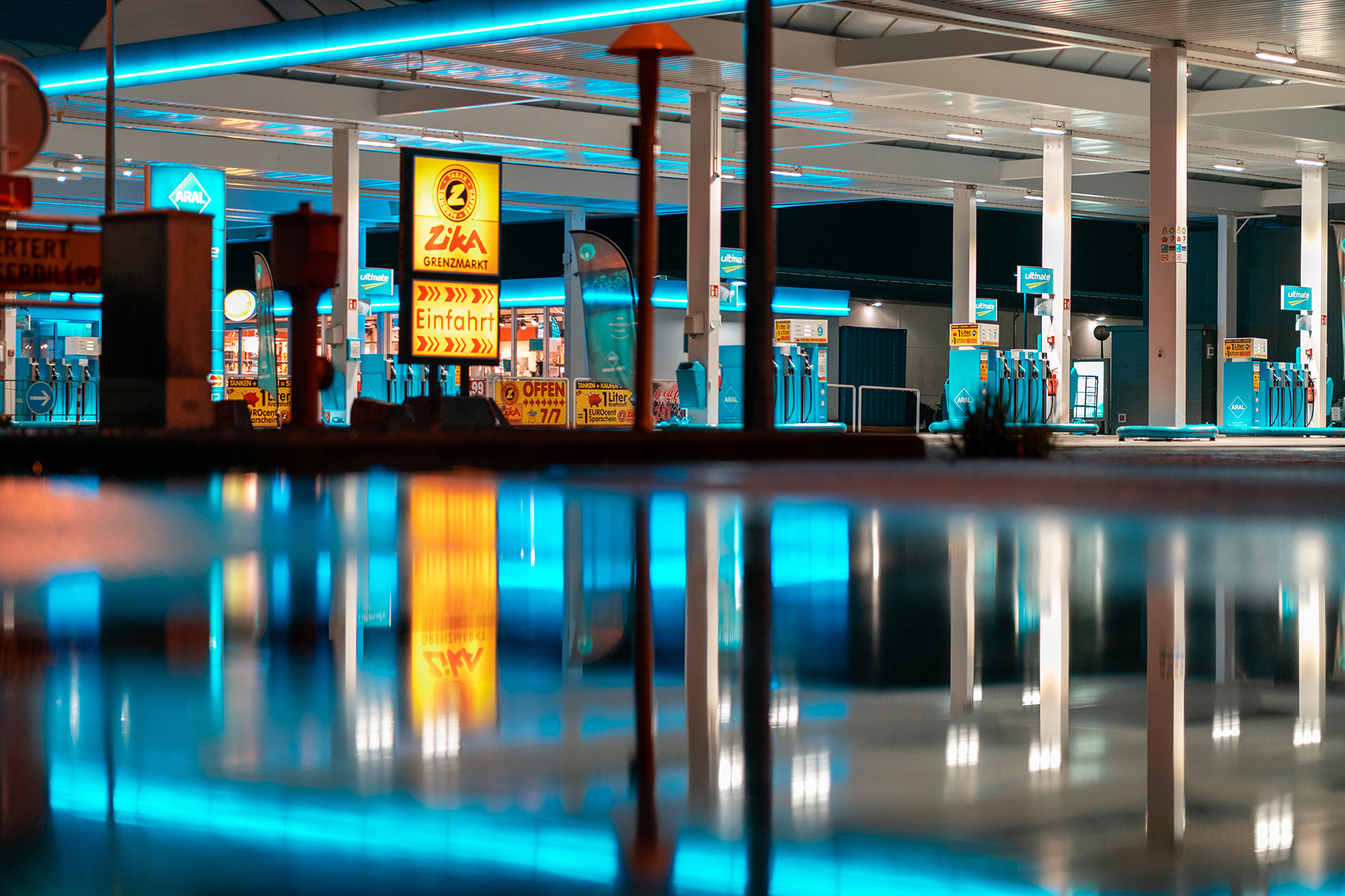 WHAT'S IN YOUR EYES?
2021
Students of the Lycée des Arts et Métiers under the artistic direction of Joseph Tomassini and Jean Back.
This collaboration between Jean Back and the 2TPTI class (video and photography) at the Lycée des Arts et Métiers is based on the play "Bilder einer Ausstellung revisited", which accompanies the new novel "l'Arc di Marianna" (Editions Guy Binsfeld) by Jean Back.
The author asked the students to create a visual interpretation of the texts he had written for Modest Mussorgsky's famous piano cycle. The photographs created in this way are thus a further development of the historical pictures by Viktor Hartmann, which inspired the Russian composer. The very free literary interpretation of Mussorgsky's work by Back is contrasted with the very personal view of the young people, who were able to get to know the diverse professional profiles and working worlds in the theatre through this project.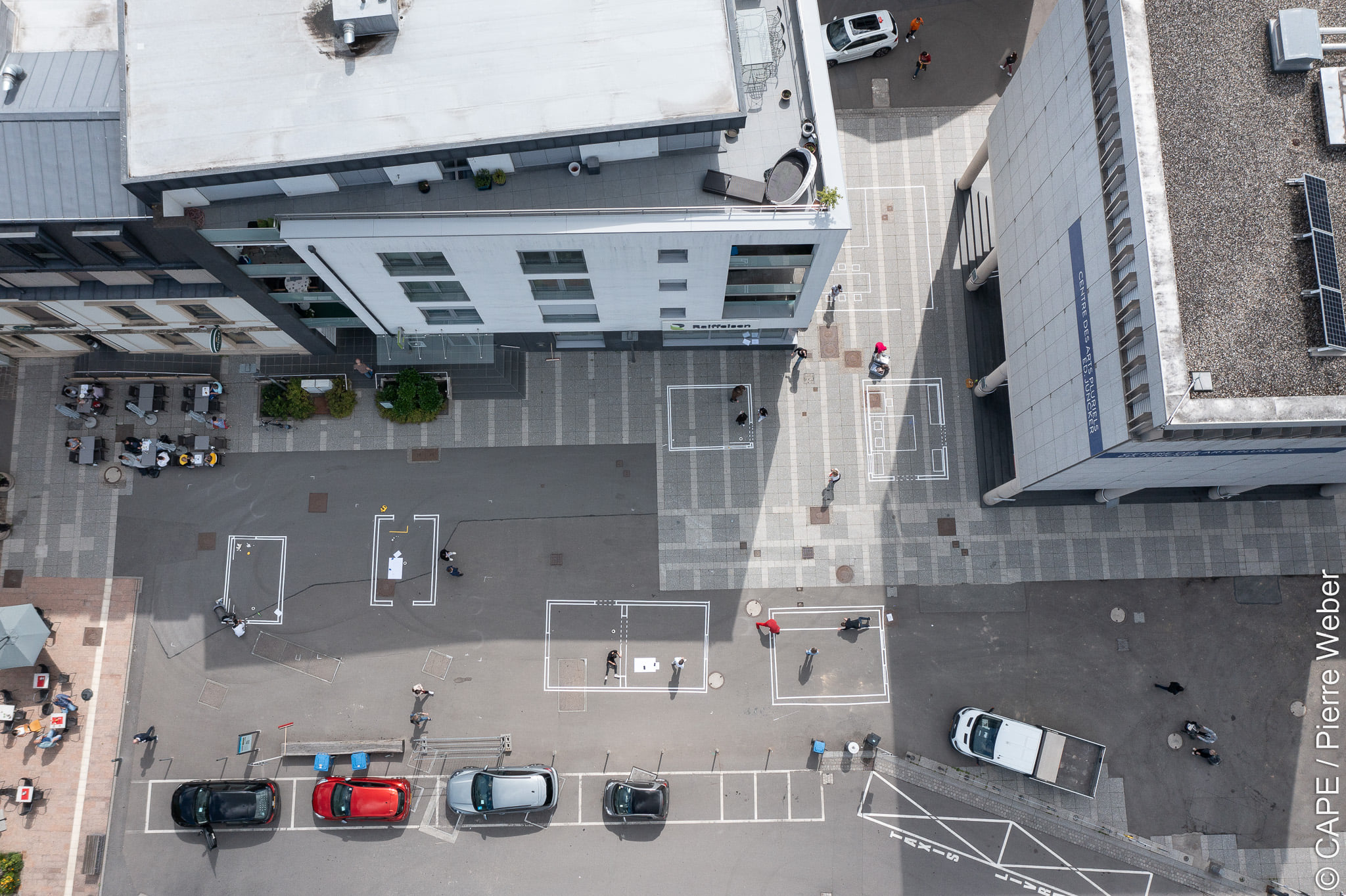 © CAPE/Pierre Weber Photographie
OP WEI ENGEM GRONDRËSS WËLLS DU WUNNEN?
2021
In the framework of her architecture mediation project WAA – Wat ass Architektur? the independent artist-architect Julie Marthe Hoffmann organised, in collaboration with different educational and cultural partners in Luxembourg, workshops with the title WAA – OP WEI ENGEM GRONDRËSS WËLLS DU WUNNEN? in which schoolchildren were asked to imagine the plans in which they would like to live. The aim of this project was to consciously and thoroughly address the topics of housing, cohabitation and architecture and to create a public debate on the most suitable housing for our current and future lifestyles. Thus, these life-size reflections on "new forms of housing" make it possible to imagine new solutions, at the heart of the housing problem in Luxembourg.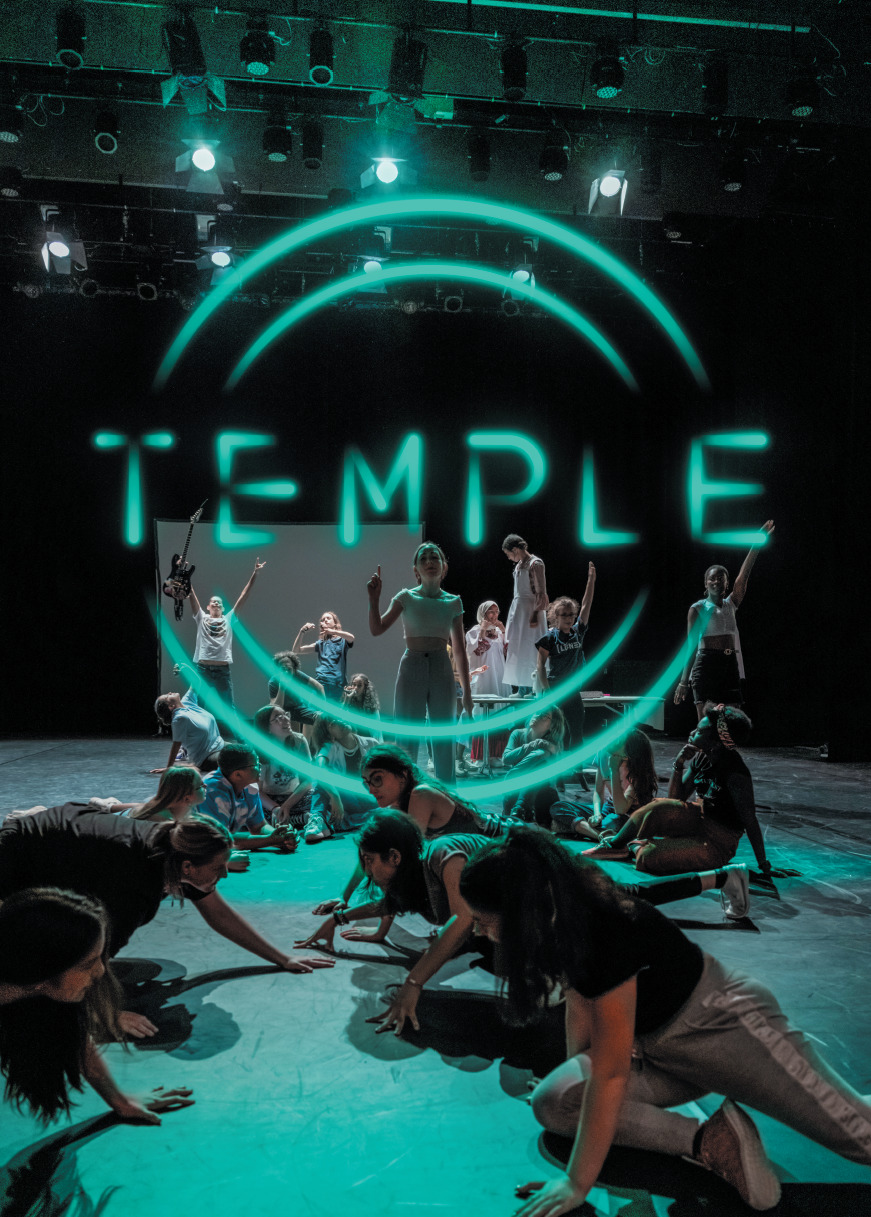 © Bohumil KOSTOHRYZ
TEMPLE – THE ART'N BE PART PROJECT
2021
This is the story of young teenagers on the run, who find themselves left to their own devices in an abandoned "temple": no presence, no adult to show them how to cope… They don't know each other and yet they will have to learn to live together for an indefinite time. Coming from different backgrounds, will they be ready to trust each other and live together in order to survive? What will happen if the young people start to create their own system of rules and laws? Will everyone find their place in this community? Will they manage to recreate a better world?
This unique participatory project, launched in 2020, allowed young people aged 12 to 20 to discover the performing arts, to experiment with artistic practice and to become artists of their own creation. Accompanied in their work by 4 experienced multidisciplinary artists – Natercia Rebelo, Benoît Callens, Sacha Hanlet and Elric Vanpouille – and directed by Nathalie Moyen, they worked throughout last season to present this innovative show combining theatre, dance and music on the CAPE stage.
This project is based on an initial proposal and with the financial support of Fondation Sommer.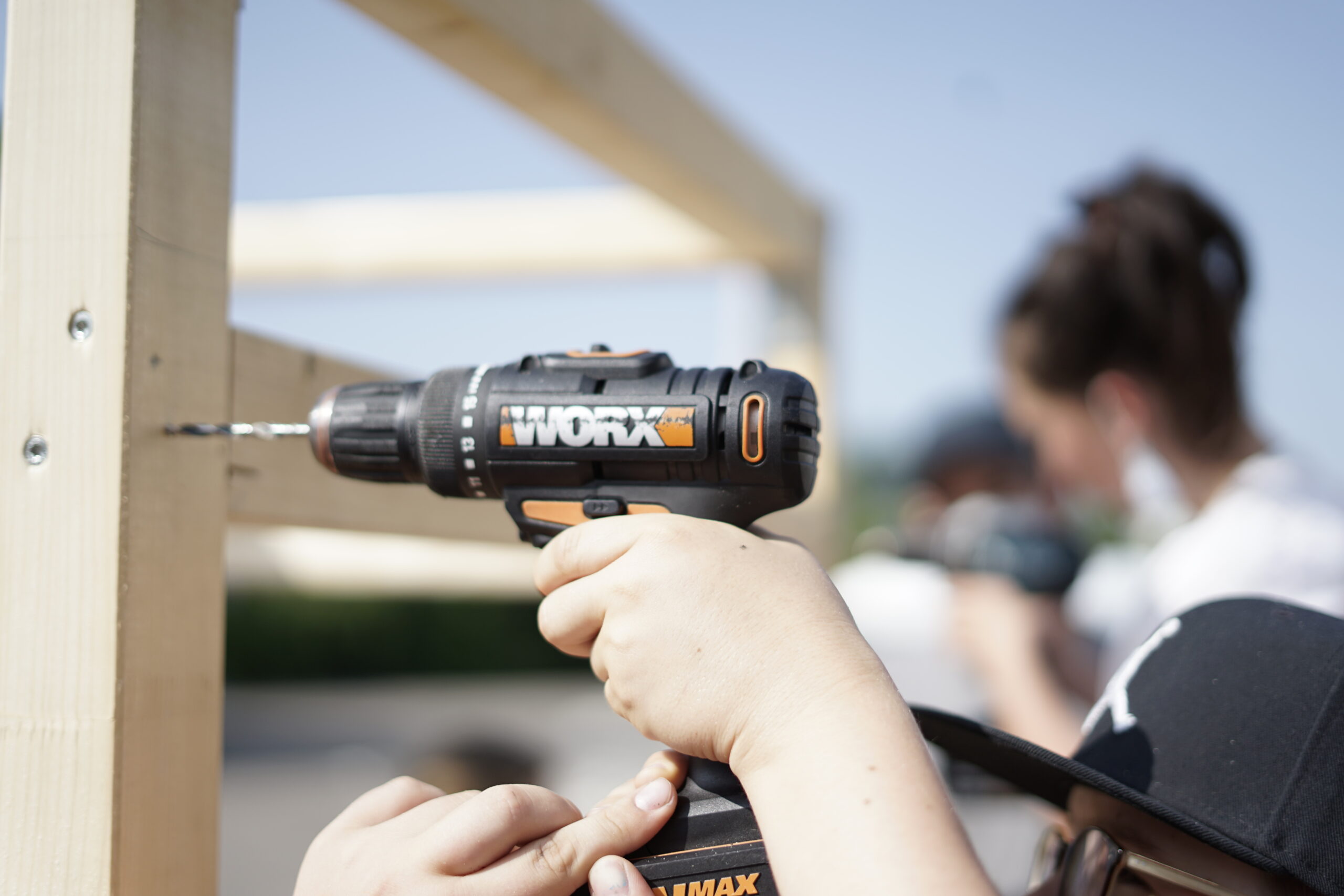 © Fapic Group
MY TINY TINY HOUSE
2021
To launch a new series of workshops, entitled "Architektur SUMMER", the LUCA has been supported by Fondation Sommer. Through these workshops, the participants are led towards different architectural or urbanistic reflections, but also towards more social aspects and they work on themes that change every year. For the first edition, in summer 2021, of this new programme, LUCA has chosen the theme of "Tiny Houses", a movement that originated in America and quickly conquered the whole world and found many followers.
During this workshop, children from 6 years old were asked to reflect on several points: how to live in a small space, to discover the advantages and disadvantages, to become familiar with the idea of alternative, ecological and minimalist housing. The workshop went beyond theory. To allow them to be creative, but also to create a greater knowledge and understanding of their built environment, real wooden "Tiny Houses" were imagined and built with the children on a 1:2 scale (they were therefore twice as small as in reality). Together, the participants created a small "Tiny Houses village" in order to raise their awareness of community life.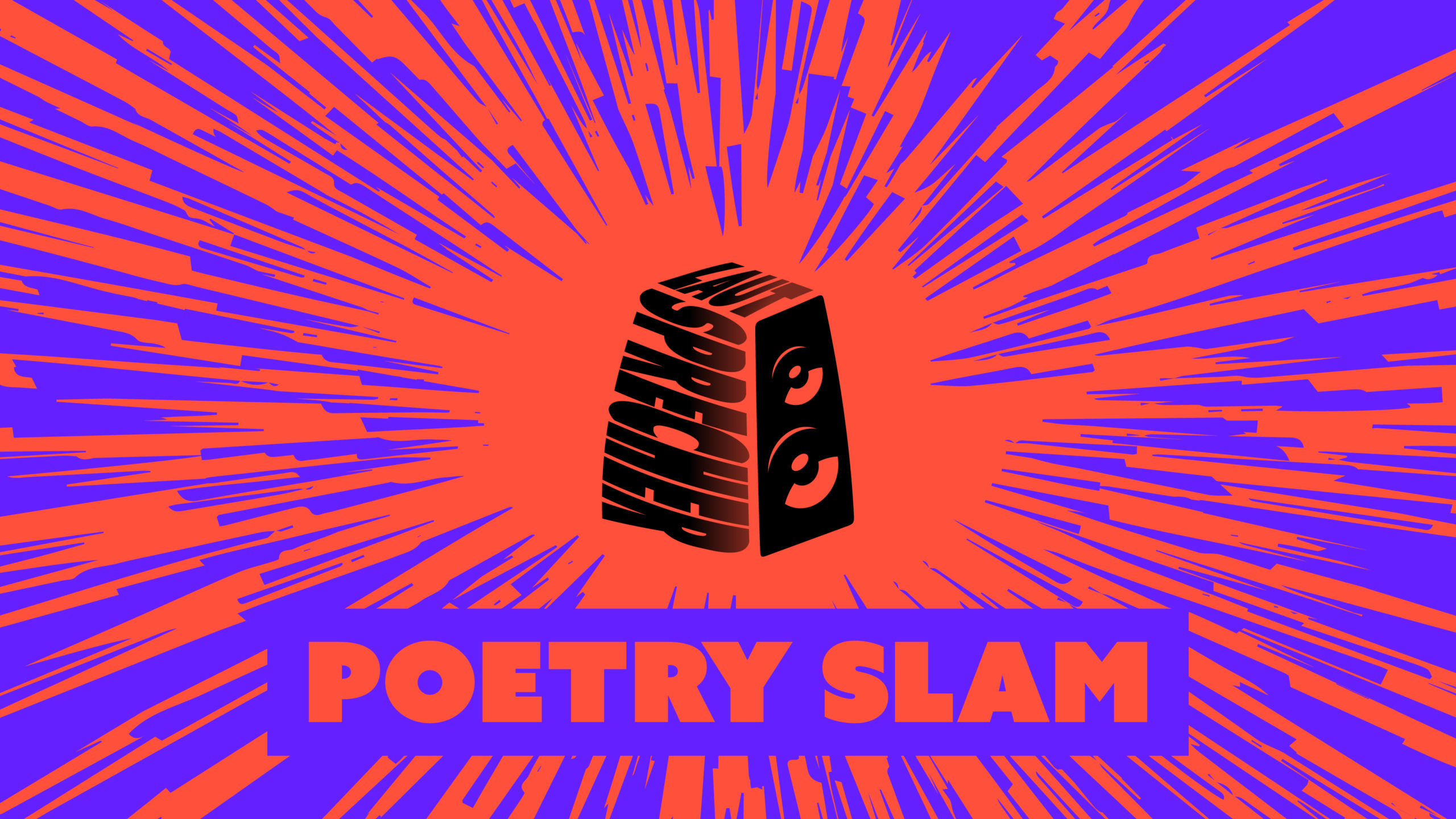 © Institut Pierre Werner
TEEN POETRY SLAM "LAUTSPRECHER"
2021
Giving young people a voice was the aim of the LAUTSPRECHER project of the Institut Pierre Werner.
In eight poetry slam workshops at the Lënster International School, the Sportlycée and the European School I, young people aged 14 to 18 were challenged to lyrically deal with the theme of freedom in the Corona era. Professional slam poets Bas Böttcher and Florian Cieslik guided them in writing and performing the texts.
The project also includes a training course for all interested teachers on the subject of poetry slam, certified by the Institut de formation et de l'éducation Nationale du Luxembourg.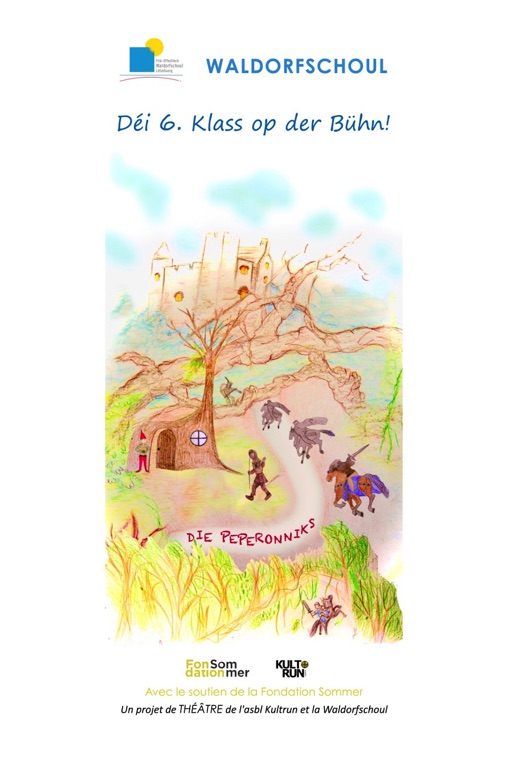 © Kultrun asbl
DEI 6. KLASS OP DER BÜHN
2021
Through this project, Kultrun asbl, in cooperation with the Waldorf School in Luxembourg City, aims to create a new space in the school context for the development of the artistic and social skills of the students. Through a regular drama class, children in the 6th grade can experience different ways of artistic expression: through speech, music, choreography and photography. In this way, they have the opportunity to work together to achieve a common goal, which will allow them to discover and value themselves as individuals and as a creative community.
© Mudam Luxembourg
MUDAM STUDENT REPORTERS
2021
Mudam hosted the exhibition "More Sweetly Play the Dance" by South African artist William Kentridge between 13 February and 6 June 2021. This exhibition has the particularity of being part of the red bridge project, a cultural project uniting the Grand Théâtre de Luxembourg, the Philharmonie and the Mudam. William Kentridge, a multi-disciplinary artist with a mastery of the plastic and performing arts, is therefore halfway between the disciplines promoted by the three Luxembourg cultural institutions. Throughout the exhibition, the BTS Media Writing class from the Lycée Classique de Diekirch and the 1ère Section Image class from the Lycée des Arts et Métiers were the new reporters for Mudam! In the form of a photographic report and a written report, the students revealed the secrets behind the scenes of the exhibition. Following the artist and the Mudam team throughout the exhibition project ( installation and associated programme), the Mudam Student Reporters took an original and personal look at the exhibition.
© Lycée des Arts et Métiers
THINK AHEAD
2021
For the 125th anniversary of the school, the Lycée des Arts et Métiers decided to present itself in a new form. Apart from the more conventional events that punctuate such festivities, the school opted for an exhibition/installation directed by the artist Edmond Oliveira, which questions the place of the school in our societies.
The Think ahead exhibition is based on the concept of participation of all pupils and students of the school. "We put our students at the centre of the project by soliciting their skills, their know-how. But not exclusively academic, we want to give them a space to present themselves! We want them to understand that this is their school, their training and that this school works for and with them."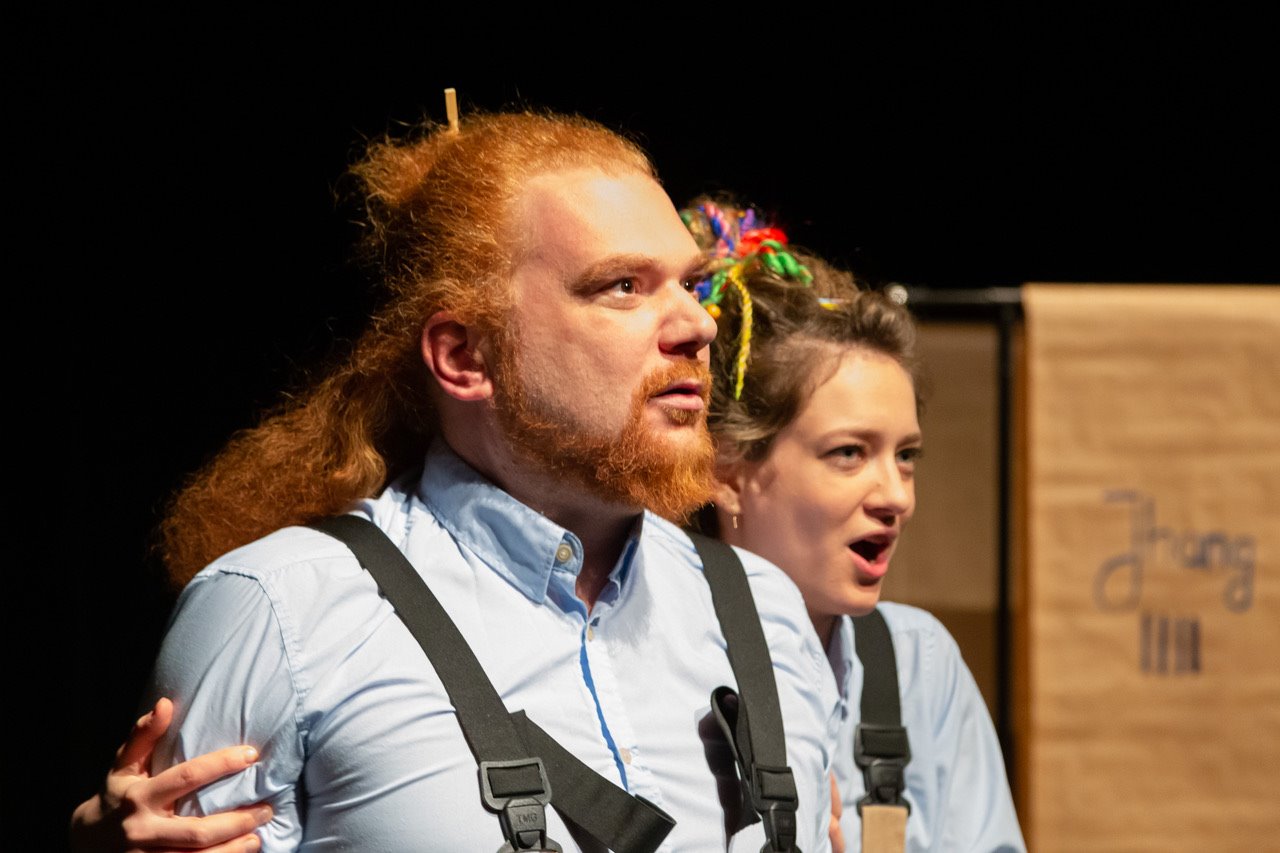 © Yves Maurer
MEGA BEIS! NUR WUT!
2021
Anger is a very familiar and generally negative feeling. Children are conditioned not to express their anger publicly, to contain it. As they grow older, they are more likely to hide it. However, anger is not an irrational emotion and should be taken seriously and expressed in a positive way. This is what Kopla Bunz wanted to achieve through its piece "Mega béis! Nur Wut!" for children from 6 years old.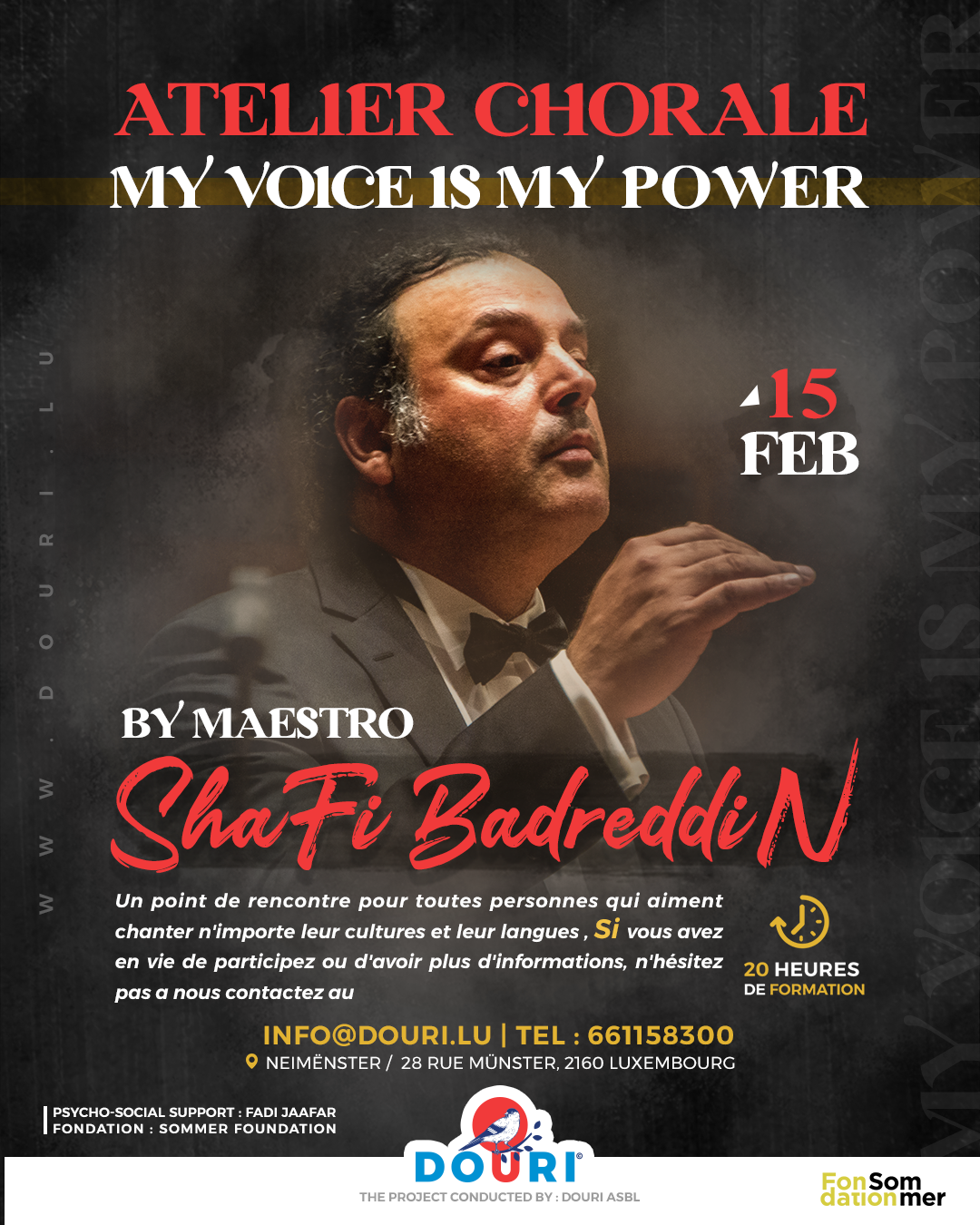 © Douri asbl
MY VOICE IS MY POWER
2021
MY VOICE IS MY POWER is a choral project organised by Douri non-profit organisation. This project aims to bring together young people from different cultures and languages. In spite of their differences, they are encouraged to communicate. Their common language is music.
Through music, the young people have been introduced to each other's culture. They identified what they have in common and work to accept diversity. The group was made up of young people from immigrant and local backgrounds. In addition to working on voice, repertoire and choral singing, the group has strengthened its cohesion and acceptance of diversity. The workshops were led by Maestro Shafi Badreddin.
© Bohumil Kostohryz
VOYAGEURS IMMOBILES
2021
Through their project "Voyageurs immobiles", the Compagnie Artezia questions the components of travel through contemporary dance. Curiosity, openness to the world, acceptance of difference but also imagination and experimentation. In order to nourish its creation and to share its knowledge, the company has carried out some of its creative work in the school environment.
A short film "Trip, a choreographic creation" recounting the artists' residency in the school was made by the students of the cinema-audiovisual option and also presented at the "Cinécourts en Herbe" festival.